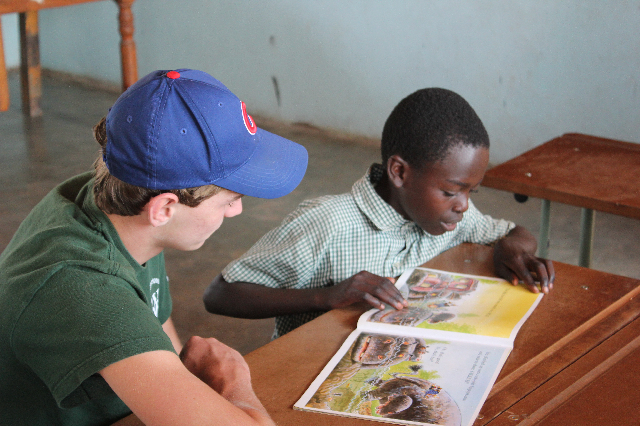 New Friendships Soar
Without fail, the reading partners program on our trips always stands out as an important highlight for our travelers. This program rewards top students with one-on-one reading time with our volunteers. What started as a way of fostering collaborative learning, has turned into an ongoing incentive to excel in the classroom. The children at Hope Community School know that if they study hard and do well, they may be chosen to participate in the Reading Program with Spark travelers. The teachers at Hope Community School tell us that this motivation stays with the children when we are away and pushes them to thrive in ways they hadn't before.
What is it like when everyone in the group is heads-down and reading together? Check out this quick video for a glimpse…
After reading aloud together for around 45 minutes, our travelers and their students engage in a fun and creative activity – to get everyone up and give them an opportunity to play together and get to know each other better. On this trip, traveler Patrice, an elementary school teacher at a public school in San Jose, came ready to instruct everyone on the construction of paper airplanes. After carefully listening to the instructions and folding their planes, the students and their partners all got up, went outside and tested their planes. There was lots of joint counting of "1, 2. 3" followed by giggles and smiles… chasing the planes down and repeating the process over and over again.
Traveler Carol Barnett, traveling with her husband Tom, had this to say about the experience:
"Following reading time, today's activity was paper plane making. Tom was in hog heaven. At the ripe age of 56, I finally learned how to make a proper airplane that actually flies. We went outside to fly our planes. Ashyl's [Carol's reading partner] took to flight very successfully. For the first time, I saw his big smile. I photographed him casting his plane. I then showed him the picture; I then offered him to take pictures. Even bigger smile."
It's those smiles, from the Hope kids AND our travelers that we love to see. The students often start the week timid and shy, but by the end of our time together, everyone has developed deep friendships that will not quickly fade.