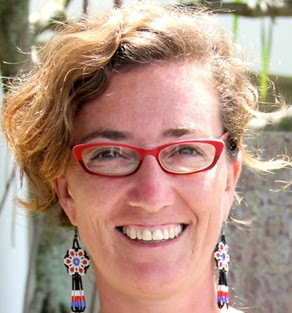 Welcome, Indira: Entreamgios' New Director
        Entreamigos, Spark's partner in San Pancho, Mexico, has been blessed with incredible leadership and staff. Since 2006, Entreamigos has dedicated themselves to San Pancho's youth and their families. Through environmentalism, women's and youth programming, Entreamigos has and continues to empower the leaders of tomorrow. We are so excited to announce that Indira Santos Aznar, a supporter of Entreamigos since 2008, will be transitioning into the role of Executive Director! We are lucky to have her onboard the team and can't wait to see how she will continue to impact the San Pancho community.
        Indira joined Entreamigos in 2008. During that time, she founded and led a recycling program and worked with local schools developing environmental educational curriculum. In 2018, Indira joined the National Council for Science and Technology, traveling to the Netherlands and Chiapas, Mexico. Now, Indira is back in San Pancho- excited for her role at Entreamigos and full of amazing ideas to implement in this new chapter of her life. 
        Sarah Kaminshine, Entreamigos' current Executive Director, has been working alongside Indira and Entreamigos as they prepare for this transition. Indira officially begins her new role this month, June 2023. Sarah will remain in the San Pancho area; continuing her career in social work. Sarah will continue to support Entreamigos by working with the Women's Group.
        We are so thankful to Sarah for her years at Entreamigos; her dedication, service, and impact have changed many lives! We wish her all the best as she moves forward in her life and career. Sarah leaves Entreamigos in capable hands- welcome, Indira! The Spark Ventures community is thrilled to welcome you to Entreamigos and we look forward to all the amazing things you'll do.