Zooming with Zambia!
In the United States, many of us who attended school share some very specific memories, no matter the time or place. Some of those might be "too much homework", "sharing snacks at lunch", or even, "dissecting an owl pellet in science class". Along with the ideas, thoughts, and memories that exist within the educational zeitgeist, one common theme is that math is NOT fun. However, that is what Spark Board members and supporters are looking to change. Their program, "Math is Fun!" has worked to challenge the obstacles that stand in the way of mathematical and technological literacy, and has grown to digitally engage and support students and teachers alike.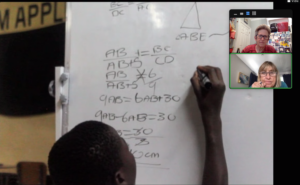 "Math is Fun!" is a program at Hope Community School in Zambia, which has been a partner of Spark Ventures since the nonprofit's origin in 2007. Thanks to the school's new Chromebook cart and computers, students have access to laptops and all the learning opportunities those provide. Currently, Sue Bernstein, Carol Barnett, Sue Dewan, and Leon Reed virtually volunteer bi-weekly with 7th and 9th grade students, who are preparing for Zambia's national exams. Carol and Leon have been hard at work with their 7th grade students, focusing on solidifying foundational concepts of multiplication and division while reaching for new skills like solving for x, demonstrating answers on a number line, and finding the perimeters of both regular and irregular objects. In 9th grade, Sue Dewan looks to grow her students' understanding of mathematical logic. Recently, their conceptual focus has been on interior and exterior angles, and triangular similarities. Sue Bernstein participates with both groups, helping to facilitate the lessons and engage with the students.
The Chromebooks and technology that has been newly implemented at Hope are a welcome addition to the teachers, as well as the students. Many instructors, such as 1st grade Teacher Gladys and 2nd grade Teacher Daisy love pairing their lessons with videos and other visual aids.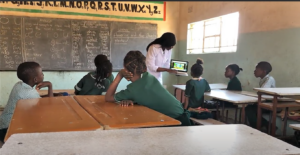 For Teachers Joyce and Lighton (Grades 5 and 6), the Chromebooks have made it possible to create slides or PowerPoints, write and print tests, and reuse previously published material. The next step in increasing technology access for the school is constructing projector/screen combinations in all classrooms. The school currently has two, located in the library and computer lab, and is excited about the prospects that more will bring.
The 8th and and 9th grade students have also been attending Zoom lessons hosted by volunteer Andi Jacobson to increase their awareness of mental health. In addition to identifying and recognizing personal mental struggles, the students are implementing healthy treatment

mechanisms and practicing having difficult conversations about mental health with friends and family. Unfortunately, recent deaths in the community have made mental health and suicide prevention even more prevalent topics. The students have been eager to learn communication tips to engage with struggling friends or family members, and are hoping to break down the mental health stigma that exists around them.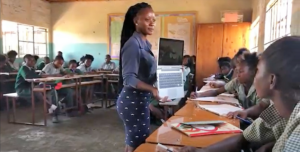 Due to the "Zooming with Zambia!" initiative, students at Hope Community School are practicing tangible skills to help them reach their full potential. The students and faculty are taking full advantage of the opportunities brought by easier access to technology, and it's exciting to consider what this program will expand to in future months. Follow along with Spark to see how the initiative continues to grow and impact lives!
Photos provided by Sue Berstein and Rich Johnson, 2022.