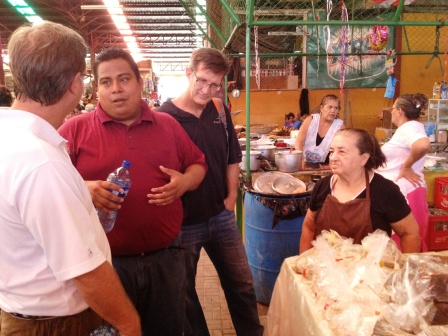 Business Advice in Nicaragua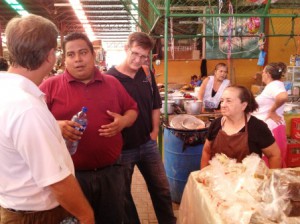 Meeting one of the founding Tías at the marketplace where Las Tías was founded more than 20 years ago
In an effort to test my international travel stamina, I spent a total of 6 hours on the ground in Chicago on Tuesday when I arrived from Zambia. It was enough to time get home, do a load of laundry, go for a short walk (to stay awake), repack and return to O'Hare for my first of two flights to get to Managua, Nicaragua.
The jetlag has been eclipsed by the exciting agenda for this short 4 day trip! I am down here with a board member, Steve, who was part of our Latin American search committee which identified our newest partner Las Tías. Steve spent time in Central and South America growing up, then as a marine and most recently starting the Latin American business divisions for several companies, including one that he started himself.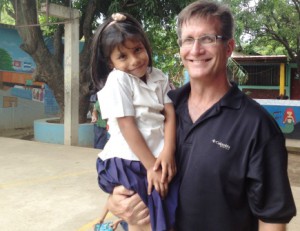 Derek and a new friend
Steve invited two of his brothers, Dave and Derek, who are both fluent in Spanish and also have extensive business development experience in Latin America, and they have become an incredible advisory group for Spark during a critical phase of our research and business planning for the investment in the Nicaraguan social enterprise. Spark will be raising the funds for this business beginning this fall, and we hope to invest in and launch the business in 2014. Along with the leaders of Las Tías, we have been identifying a business with high growth potential, and one with the profitability to financial sustain the important programs of Las Tías.
The last two days we have been in sessions with Spark's international business team, MBA students from Monterey Institute, who have been working with us for the summer, and specifically on the ground in Nicaragua for the last month. Reviewing financials, conducting risk analysis, identifying distribution and marketing challenges and diversification scenarios… all part of the strategic work happening here in Leon.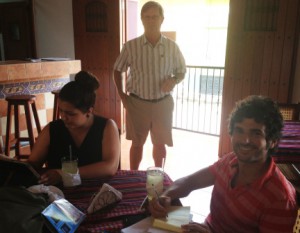 Taking a break from the work sessions: Dave (center) with
Monica from San Francisco and Jose from Spain,
MBA students and members of our international business team
I can't say enough about this team of students, fearlessly led by Spark Director of Partnerships, Lucy Jodlowska. They have put in incredible amounts of time and work and invested their own financial resources to be a part of this project. And Steve, Derek and Dave have provided strategic input, valuable insights and strengthened this entire process through their involvement this week.
Here are a few photos highlighting our time here in Leon. I hope you will join me down here in October to check in on the programs of Las Tias, and get an update on the business development!
-Rich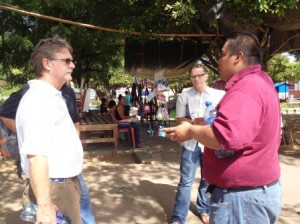 A quick tour with a history lesson of Leon.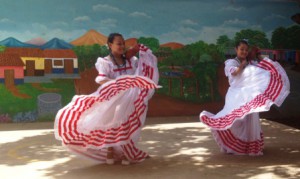 As always, our group was welcomed with beautiful cultural dances at Las Tias.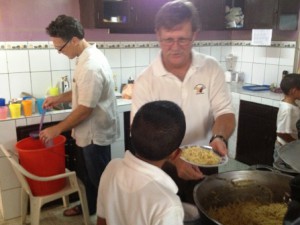 Steve and Dave serving lunch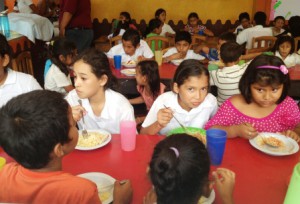 Lunchtime at Las Tias – it was spaghetti with marinara sauce and LOTS of parmesan cheese