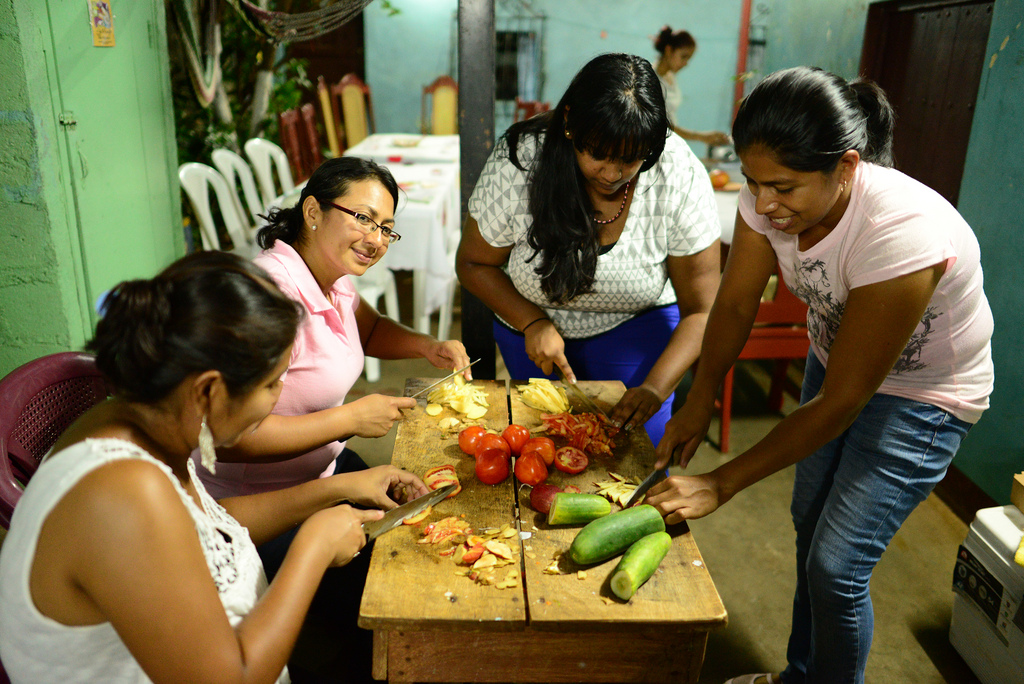 Dinner Numero Dos with Las Tías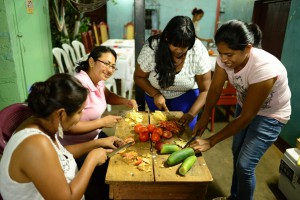 Thursday night's dinner will be one I won't forget for a while. Our team of six had a full day- in the morning we had gone to the Younger Children's Project and had a chance to spend several hours playing games with the kids, making jewelry out of beads and seeds, and holding a quick English lesson of commonly used phrases. Afterwards Magno took us to the massive market where Las Tías originated, stopping by to meet one of the organization's founding Tías, a merchant who's been selling fruit at the market for decades. A woman in her mid to late 60s, she was sitting in a plastic chair by her stall, wearing a Yankees baseball cap and sipping a Coke through a long straw. Impossible not to smile when you saw her.
After a stop at the Adolescent project, we were soon on our way to Corina's. Our sixsome (not sure if that's a real word) were about to cook a massive Nicaraguan dinner with the full Las Tías team. Can't deny how excited I was to see them in a context other than meetings and carefully prepped activities. The minute we arrived, a series of incredible aromas hit us- the traditional Indio Viejo (a saucy stew of magic), pico de gallo, pulled pork, shredded chicken, fresh mangoes, and mountains of vegetables. The Tías pulled each one of us to a different area and minutes later Carol and I were rolling taquitos, Krupa was deep frying, and Ursula taking care of the pork. The gentlemen, ehm, hid in the corner by the fan 😉
For the first time since we entered into our partnership with Las Tías I felt like I really had the chance to get to know them better individually, one on one. We talked about their kids, family life, and the political and cultural differences between the local neighborhoods, as well as the presence of a powerful indigenous identity that is actively preserved and celebrated; from ancient recipes and medicinal plants to sadness over the loss of native languages.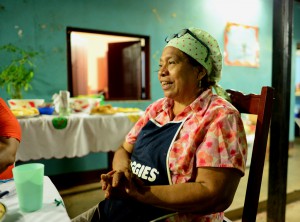 Corina at the head of her table
When we sat down to eat I wound up sitting next to Corina, the founder and recognized leader of Las Tías, who was more quiet than usual. I asked her what was on her mind. Her response had to do with a topic I've been having discussions on with several people in the past three weeks- the growing number of farmers, many of them quite young, being diagnosed with kidney disease and subsequent kidney failure. The entity held responsible for the deadly disease has been the long suspected sugar cane industry, which uses dangerous chemical fertilizers to kill pests. The industry vs public battle has been getting louder and more serious, partially due to advocacy organizations calling attention to the problem.
I asked Corina what her thoughts were on this situation. Her response? It's time to take this to the schools and universities, and grow the awareness campaign among younger people and those in academia. Not surprisingly, she then said she had contacts that wanted to collaborate in this effort and were ready to take the next steps. I don't know what these next steps will look like, but if Corina is in the leadership team, I have high hopes for the outcomes.
Among serious conversations and lighter ones, all over incredible food that we had seconds and thirds of, the evening brought us all closer together. Looking forward to many more.
-Lucy