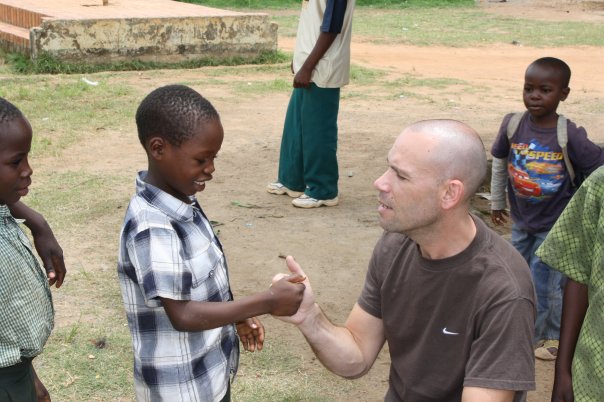 Interview with a Philanthropist: Rich Johnson
Working in the non-profit world, we have the opportunity to meet so many inspiring individuals. Hearing their stories inspired us to start a new blog series, "Interview with a Philanthropist". Our first interview? None other than our very own Rich Johnson!
Prior to starting Spark Ventures, you worked as an Administrator at North Park University. Did you ever think that one day you'd be running a non-profit and doing work in Zambia?
RJ: Part of my work at the university was overseeing international volunteer opportunities for students. And I did travel with students to Mexico and Africa. But if you had told me 10 years ago that I would be doing something like this I might have laughed.
As the story goes, Spark Ventures grew out of an experience you, Scott Barbeau and Dan Marcus had volunteering in Africa. What was your "a-ha" moment?
RJ: In the summer of 2006, the three of us traveled to Zambia to volunteer with Hope Ministries, a local organization with a community school and orphanage. HIV/AIDS and the extreme poverty had left so many children helpless and we were trying to figure out what we could do. In a conversation with the Charles, the leader of Hope Ministries, I asked him what they needed most. He said, "We want to stand on our own two feet, so we leadership development and partners who will help us get there." That was my a-ha moment. We returned to Chicago and began to form the strategy for Spark-to strengthen and sustain organizations like Hope Ministries.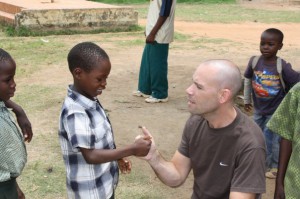 Rich playing with a child from Hope Community School in Zambia
What was it about Zambia that drew you all in?
RJ: You often start a trip like this thinking you will be doing the giving, but the opposite happens. My experience has been that when I spend time with people living in poverty, I get more than I give. I get perspective, humility and I experience a profound joy-especially from the children-unlike anything I've known.
There are so many different projects that Spark Ventures manages in Zambia. Is there one in particular that is near and dear to your heart?
RJ: Well, Spark Fund is definitely one that I like to share with people. It's great because donors can vote on which projects they'd like to support. Spark Fund currently supports three great projects – Books, Books and More Books!, Clinic Construction and Supplies and the Poultry Farm.
What is the biggest change you've witnessed due to Spark Ventures' work?
RJ: Empowerment. I've seen a small group of Zambians who were struggling to help the children in their community, now become strong competent leaders. Their organization is now a beacon in the neighborhood and others are looking to them for guidance.
What's next for Spark Ventures?
RJ: Latin America! We are looking to add a second partnership and we have targeted Latin America so that we can test our strategy in a different part of the world. We are very early in the search, but you'll be hearing a lot more about that in 2012.