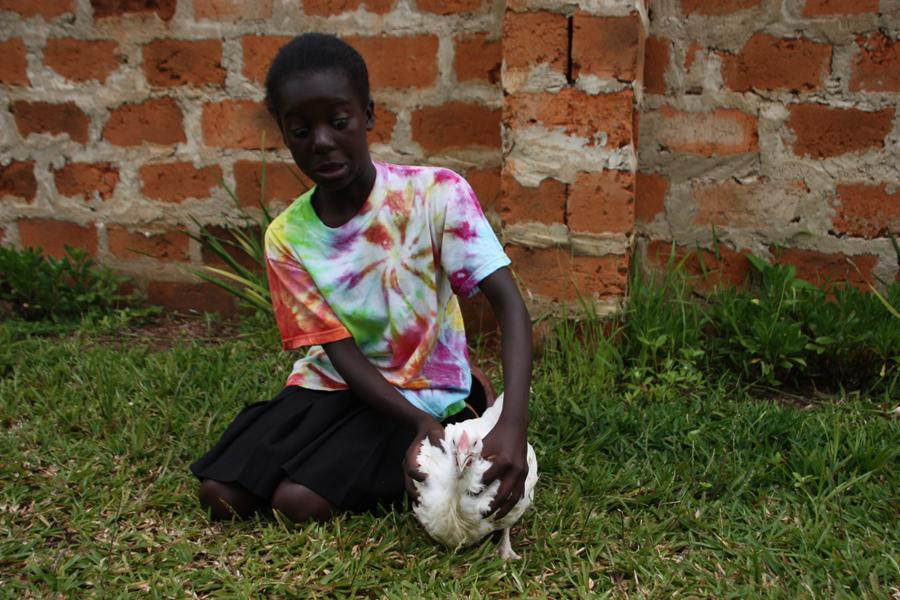 Efficiency, Efficiency, Efficiency!
Wow. I cannot even describe how productive the Hope team and I were today! It was utterly amazing. I was expecting to do all of the Grade 7 sponsorship updates, maybe also some of Grade 6 if we were really productive. By 10AM, which was only half the time we had scheduled, we were done with Grades 7, 6 AND 5! It was amazing, and it was in great part thanks to Charles's herculean efforts in getting 8 translators ready for us by 7:30AM this morning. I hadn't brought the Grade 1-4 update sheets with me, so everyone went back to their normal schedules until we started to write sponsorship letter responses in the afternoon. I'll admit that it was nice to have a little break given the mild jetlag!
In the afternoon, after all the kids at school had lunch, we were able to get the majority of the responses to sponsors' letters done as well. This was a much longer process given that it takes much more time for each child to figure out what they want to say and have one of the staff help them get it down on paper, but we made good time and had fun along the way. The children were so excited about the letters they received, and they seemed to have a great time writing back and drawing pictures for their sponsors. One boy was just indescribably happy when he opened his letter to find lots of different stickers that his sponsor sent. It's always so heartwarming to see these small efforts and acts of kindness that bring the kids so much happiness.
After the responses were completed, I got to spend some time hanging out with the staff and the kids at Hope House, the orphanage that Hope Ministries runs. On the trip that Rich and I took in February, we took the Hope House kids to a poultry farm to get pictures of each of them with a chicken to help raise awareness of the poultry farm that Hope will soon be building and running so as to become financially independent. I had some of these pictures printed for each of the Hope House kids, and you should have heard the laughter when they each opened their envelopes! We have been told that photos are very expensive to print in Zambia, so I think they were tickled by the fact that they now had photos of themselves. The fact that there was a chicken in them was just icing on the cake. 🙂 (The following is the best picture we took by far. It is truly a treasure.)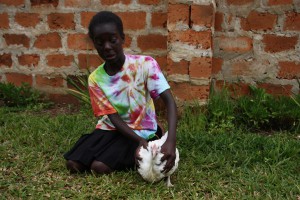 After my current stop in the Hope Ministries office to get caught up on some e-mails, I will be heading back to the home of my host family, the Mulandos, for dinner, play time with Khongono and Sombo, the two children in the house, and maybe even some sleep tonight. Dinner last night of nshima, rice, chicken and five-year vegetable (a green, leafy vegetable) was incredible, and I'm looking forward to more of the same tonight! I didn't remember liking nshima so much from my last trip, so either I'm really becoming Zambian as Mama Lillian Mulando keeps insisting, or she just has a special touch!
Tomorrow will be another day of updates and letters, and I'm looking forward to the work and play that it will bring!
– Joann