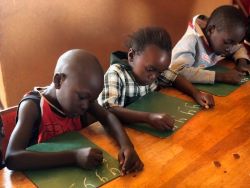 Rich Johnson's Trip To Zambia: Pt. 1
          Rich Johnson co-founded Spark Ventures in 2007 after a trip to Zambia. Fast-forward 15 years later to the fall of 2022, when Rich had the opportunity to travel back to Zambia and visit Hope Community School for the first time since the pandemic began. Since the inception of the Spark-Hope partnership, Hope has spent years working with Zambia's youth to provide access to nutrition, healthcare, and education. Over the span of 15 years, Hope has expanded to reach over 450 children and their families, and has an incredible 7th grade graduation rate of 100% since 2010. With Spark's support, they have increased technological literacy with new Chromebooks, created numerous jobs, provided necessary medical care through annual clinics, and impacted youth and adults through reading and leadership programs. Rich brings some exciting updates and insights into Hope Community School, and the impact they are making on hundreds of lives.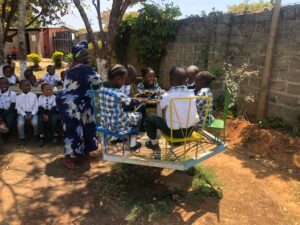 Hope Community School originally began with a program that served 70 students, with no full-time paid staff, meal program or supplies. As of today, there are over 450 students working within the program! Hope is well known in the community for providing a high-quality education in a nurturing environment. Not only do students receive an excellent education at Hope, they also receive a nutritious meal each day and have time built into their day to have some fun. The younger students have been taking full advantage of their free time at  their new playground! Hope Community School's playground features some brand-new equipment, including a merry-go-round, slides, and swings. 
          In the pre-kindergarten classroom, led by Teachers Clara and Dorcas, students are currently utilizing the new Chromebooks to practice their shapes and numbers. The teachers use the new Chromebooks to find pictures, videos, and even songs to supplement their lesson plan.

Teacher Eness and the kindergarten students are working on the alphabet and number 1-10. Currently, they're on the letter Y! Teacher Eness helps the children practice their motor skills with a small game. They practice singing their names while tossing a ball back and forth.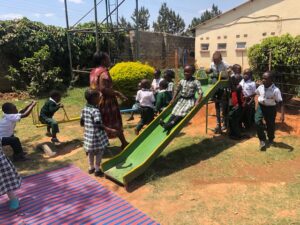 The students at Hope Community School are set for success as they receive a strong education, nutritious meals, healthcare, and mentorship from teachers and volunteers. The positive impact Spark Ventures has helped bring to this community has grown exponentially over the past 15 years, and these children will grow to become the future leaders of Zambia.