Welcome Arnold, Spark's New Program Manager!
Spark Ventures
|
Business
,
business development
,
chicago
,
community programs
,
nicaragua
,
non-profit
,
nonprofit
,
organization
,
partnership trip
,
socent
,
social enterprise
,
social entrepreneurship
,
social good
,
spark
,
spark ventures
,
travel
,
Uncategorized
,
zambia
We are thrilled to announce the newest member of our team, Arnold Duijzer! To help you (and us!) get to know Arnold a little better, we had a little Q&A session with him.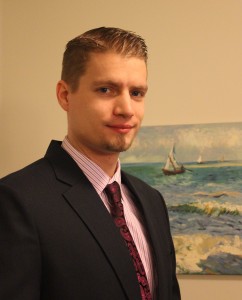 Where are you from and what did you study?
I was born and raised in a small town in the Netherlands, about an hour from Amsterdam, and I went to college in Tilburg; the sixth biggest city of the Netherlands. I graduated with a Master of Science in Leisure Studies with a specialization in Marketing Management.

What is Leisure Studies?
Leisure Studies is a branch of the social sciences that focuses on a critical understanding and analysis of leisure, including tourism, culture, sports, and media. The course is a combination of economics, sociology, and psychology and takes consumer behavior, business strategy, and government policy into account.

When did you move to Chicago and why?
My wife and I moved to Chicago in April 2014, because my wife was offered a job at the Chicago branch of the company where she worked.

From where did you move?
My wife and I moved from New Delhi, India. I lived and worked there for five and a half years.

What kind of work did you do in India and how has that prepared you for the Program Manager position at Spark Ventures?
In India I primarily worked for a travel agency. I was involved in trip management, event management, and marketing communication. The role of Program Manager includes a lot of areas that I have gained experience in during that time.

What did you enjoy most about living in India?
I loved being part of a completely different culture and society than that I was used to. The economic boom of the past 20 years is apparent and visible throughout India. In the period that I lived in New Delhi I have seen the city change dramatically, such as high rise buildings popping up and the metro that came up. At the same time, the culture and traditions go back centuries are still all around as well. This leads to an interesting mix, like cows between fancy cars on the streets of a modern business district. There was never a dull day.

Do you get easily used to living in such a different culture and country?
You do get used to it and quite fast actually, but when you drive to your office and pass elephants, camels, or a cyclist with a monkey on the back of the bicycle, it hits you that you live far away from 'home'.

What do you like best about living Chicago?
Chicago is a fantastic city to live in primarily because of the enormous amount of leisure activities, including the street festivals, concerts and movies in the park, museums, sights, beaches, and the endless number and variety of quality restaurants in Chicago.

What excites you most about Spark Ventures and the future of the organization?
The fact that Spark has a modern business driven approach to philanthropy makes sure the future is bright, not only for the organization, but especially for the thousands of people in Nicaragua and Zambia that benefit directly and indirectly from Spark Ventures and our supporters. I'm already very inspired by the passionate and generous people who support Spark in a variety of ways.

What do you enjoy doing in your spare time?
I have a passion for travel, music, movies, eating out, basketball, and the arts.

What have been your favorite travel destinations?
I have traveled to over 25 countries, but Petra in Jordan has been by far my favorite destination. Other extremely special places to me are Cappadocia in Turkey; Udaipur, India; the temples of Angkor and Phnom Penh, Cambodia; Tokyo and Kyoto, Japan; Egypt, and anywhere in Italy.

If you could visit anywhere in the world, where would it be?
I have yet to visit Central and South America, and Sub Saharan Africa, so I'm really looking forward to visiting the Spark Ventures' partners in Nicaragua and Zambia, and to explore more places there.

Welcome to the team, Arnold! We are thrilled to have you on board!