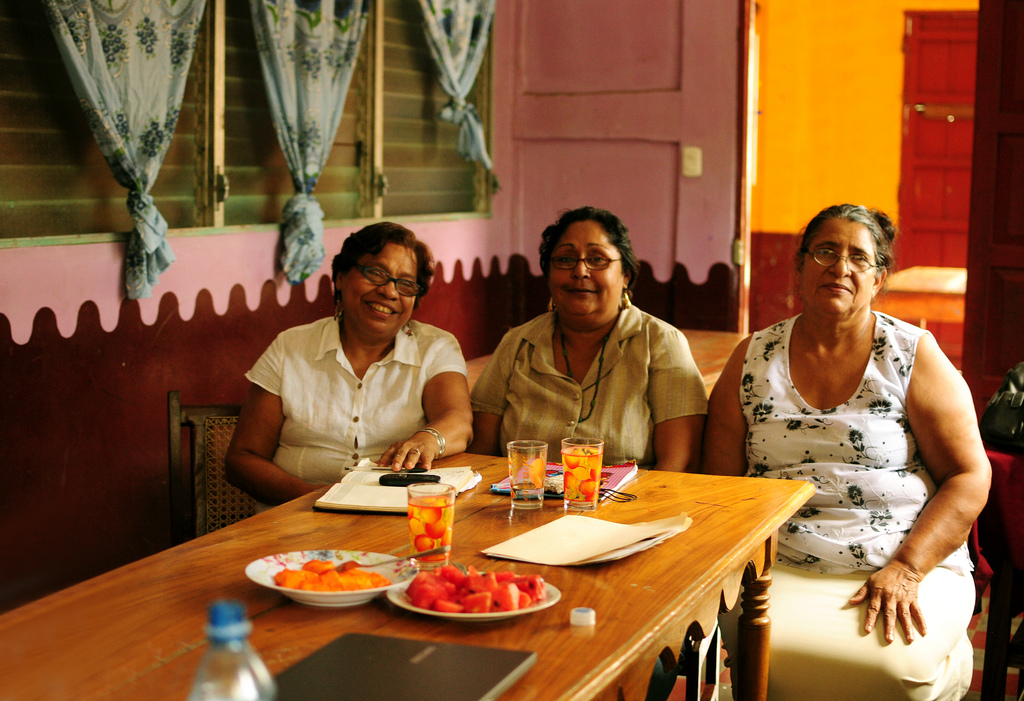 Las Tías, Nicaragua: Partnership Development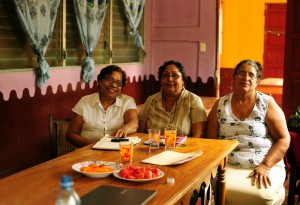 Las Tías leadership
Arriving in Managua last week, Nicaragua greets you with a massive wave of heat and a medley of distinct smells and sounds. The capital is a combination of endless strings of honking cars, vendors selling everything from plastic toys to flags to fruit and weaving in and out of traffic, and pick-up trucks with workers or kids sitting in tightly squeezed groups in the back. Music, exhaust, burnt tires, locally devoured quesillos, and little plastic bags with juice everywhere. Bienvenidos!
Waking up to what's considered the last month of summer and a nearing transition to both winter and the rainy season, I arrived at Las Tías' children's center early Tuesday afternoon and was greeted by a friendly woman who I didn't recognize but who seemed to know me. She quickly introduced herself as the social worker, which then made sense. Back in the fall of 2012, shortly after conducting a Needs Assessment with the Tías team, one of the areas of need was strengthening both the psychological and social well being of the kids. These became two of Spark's primary funding areas, beyond several others- supporting a full time psychologist and part time social worker to work with both the younger kids and the adolescents. Most of them come from poor, broken families, many victims of verbal, physical or sexual abuse, others of neglect. Among many of the things they learn at Las Tías is how to deal with and resolve conflict without the use of physical force.
The Tías began arriving one by one, greeting and catching me up on what has been happening that week thus far. Corina told me that she was hosting a single mother with two young children at her home, a young woman who fled from her abusive husband but had nowhere to go. The entire team was looking through their networks for help and to find funding for the woman to purchase a small parcel of land and build a casita. After building her a home, I wondered, how would she continue to live? Given that she had almost no formal education, what would she do for work? The challenges only compounded.
With the leadership team and several members of the Board present, we started our first meeting. It was an exciting one given the proximate timing of so many things on the horizon- Spark's first Nicaragua Partnership Trip and the launch of the investment research phase being two of the bigger items. Both ideas and questions started pouring in, which needed a pause to first talk about long term goals of the future social enterprise and the likely level of funding it would need to generate in order to sustain itself as well as Las Tías' operational costs. With that in mind, it was too early to talk about specific businesses- instead, the conversation turned to the upcoming process and structure development of the preliminary areas of research and factors that would need to be considered, such as current industry trends, and political, legal, and environmental considerations, to name a few.
Though the meeting was just the first one of many, the team and I outlined blocks of dates and what needed to be accomplished in various spheres in the next six months. A business research and plan development team has been in the works on Spark's end, with exciting news to come by the end of April- the composition of the team. But till then.. the Partnership Trip is less than two days away! Excited to see everyone.
Hasta la proxima,
Lucy