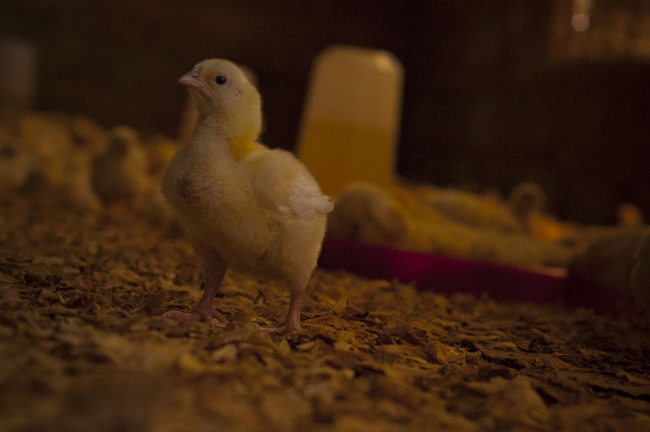 TLC for Hope's Inaugural Chickens
Yesterday was our first full day at the poultry farm. We began with a tour of the land and facilities from Ba Charles. The buildings are made of bricks. I have to admit that I still have a hard time comprehending the construction processes here. All the cement is made by shovels, dirt, sand and water. Each brick comes out of an individual mold that is packed with the wet and heavy cement mixture and then picked up, dropped a few times to make it settle and then carried over to the brick rows where it is flipped and the mold is carefully removed. A farm facility like this requires thousands of bricks! There were workers everywhere we looked. They were working on the guard station, the extension of the chicken house, the foundation for the office building and a small bathroom facility.
The highlight was when Farm Manager Mike Tembo allowed us to come in and see the four-day-old chicks. They are kept in the chicken house and when they are in the brooding phase, which last for the first fourteen days, they are kept closer together at the end of the building with a temporary wall made of plastic. The temperature in the room must remain around 100 degrees F and there are special heat lamps and elevated charcoal warming areas to keep the little guys warm. It is still a free roaming area where they have plenty of room to move around. They eat and drink at their own leisure. He explained that at any given time about 40% of the chickens should be eating and drinking, 30% should be resting, and 30% should be moving around and active. He checks to make sure every chicken is alive twice every day and for the brooding period he actually sleeps in the chicken house, just on the other side of the plastic wall where the chicks are!
Zach, Sam and Paul couldn't get enough pictures or video footage of these little chicks. They were amazing, and it is great to know that they will be so well cared for by Farm Manager Tembo.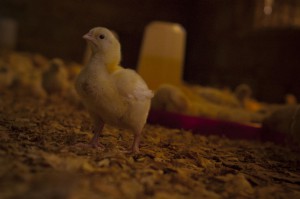 One of the 3,000 inaugural Hope chickens!