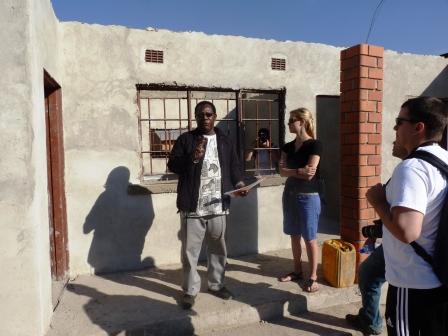 Estreda
Tuesday night (from Rich): Today we were welcomed back to Hope Community School by more than 300 beautiful children. Their singing voices are still ringing in my ears as write this post: "Hello, hello dear visitors, we say welcome to you today." The dancing and drums, the songs and smiles, the games and gracious embraces…it's an experience I wish for everyone to have at least once. The afternoon was filled with serving lunch to the students and then participating in a tour of the growing Hope Ministries Campus. Executive Director Charles Mumba painted an incredible picture of their current and future work as we walked through the 7 classroom school, bathroom facilities, Hope House orphanage, the water well, garden, and two new buildings under construction—the boy's dormitory and a clinic. After lots of fun and a fantastic dinner with the children and staff of Hope House, we headed back to our lodge. As someone said on the bus ride home, what an amazing first day—how do we top that?
But as I prepare to climb into a comfortable bed for a good night's rest, the overwhelming joy I felt today is clouded by the picture of a troubled 12 year old girl named Estreda. She showed up at the front door of Hope House about 8pm, just before we left. It was dark outside, she had walked from her home and had obviously been crying. The Hope House mother asked that I join her on the front porch to talk with Estreda. Slowly her story unfolded.
Estreda lives there in Twapia and walks about 30 minutes each morning to attend Hope Community School. Her parents are gone and she lives with her grandmother who is unable to provide for her. So today when she arrived home, her grandmother said she could no longer attend school because she needed her to go to the market during the day to sell vegetables so they could have a little money to buy some other food for dinner. When Estreda resisted and explained that she wanted to continue to attend school so that she could be educated, her grandmother kicked her out of the house and told her not to come back. That's when she walked the 30 minutes back to the Hope Ministries campus and arrived at our door.
While the laughing and post-dinner games of cards, Jenga and Battleship continued with the Hope House children inside, I called Charles and his wife Margaret, who suggested that Estreda stay at the orphanage tonight and tomorrow the staff would go to visit her grandmother and try to work things out.
Estreda came inside and had some orange juice and I thought I glimpsed a slight smile before we left. But I go to bed thinking of the desperate conditions of she and her grandmother. How many of us have ever thought of having to choose between a grade school education or food? Tonight I realize that Spark's mission to help vulnerable children achieve their potential often begins with simply giving these children the means to survive. Our partner Hope Ministries has been empowered to do just that for Estreda and hundreds more. And with Spark's continued support, Hope will be able to help these children not just survive, but thrive. So it is with cautious optimism that I sign off for now.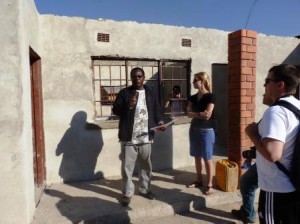 Charles giving a tour of what will be the boys dormitory.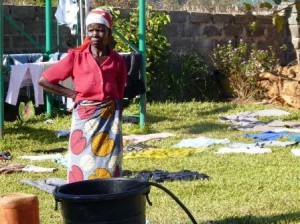 Hope House grandmother doing laundry.
Kelvin, Marvis and Jeff working with Judy on some poems for the dedication ceremony for the Shelby Goldstein Schoolhouse (on Saturday).